Cottweiler
had one of the last shows of the day but following last season I already knew this wasn't one to be missed. As we descended 12 floors into a basement car park, we were met with what looked like men's portable loos with moss growing on them. This added to the anticipation of the show, and the likely heat that Cottweiler would bring out.
By the time I left the show, I was practically jumping with excitement for so many reasons. Firstly, Cottweiler made ample use of a colour that had been missing from most of the shows this season; Moss Green- and then captured its texture by using Suede materials. The brand created some truly technical pieces that would invigorate the palate of any sports aficionado.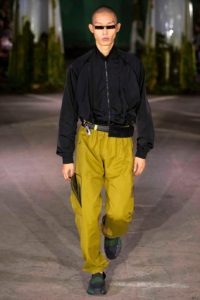 The brand made reference to a variety of sports with each look. Golfers had the exposed pockets on the suede trousers, complete with golf gloves hanging off the hip as an accessory to the outfit. Racing drivers, a nice satin two piece with 'Audi' hat and of course driving gloves. Scuba diving inspired fits came complete with belts and harnesses.  Each piece was beautifully bound with accessories and tailored to perfection. The trousers were a real statement piece as each one appeared to have ample padding, zip detailing and outer pockets. The fixation belts used help to draw attention to both the upper and lower parts of each outfit and focus them in isolation.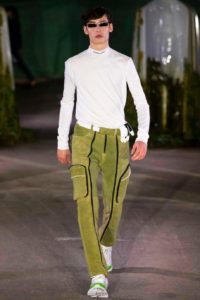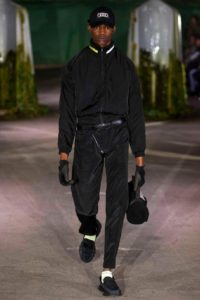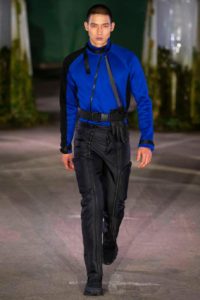 This piece was inspired by 'The Lost Art of Cruising' and that is 1000% evident in the attire from the translucent tops to the sole-swapped loafers, whilst it mimicked sports it did not take on the athletic overactive form but instead the leisurely approach. This collection visually represents a spontaneous decision to go for a drive, or a cycle, or get on the green (or just look like you are!)
Ofcourse, the Reebok sneaker/loafer mesh did not go unnoticed and honestly speaking, I'm in love with them. Even as I type this the memory of their first entry on to the runway flashes back. Oozing both comfort and style, it's the ultimate lounge wear you can take outside! All of the Reebook footwear featured had accents of green and were well suited to the current styles we see on the sneaker scene.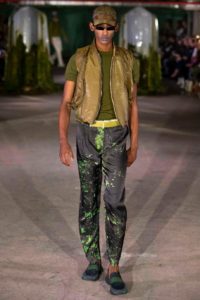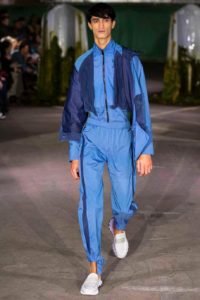 The whole collection embodies all the style of sportswear without the physical intensity. It appears effortless in execution and I honestly cannot wait to see it being used in shoots and worn in street-style. Personally, Cottweiler has the most wearable collection of London Fashion Week, stripping away the bulkiness of sportswear, Ben Cottrell and Matthew Dainty focus on creating sexier, more structured silhouettes.