I love a good collab, so there was no way I was going to miss the Liam Hodges x Ellesse show. The London based designer and Italian sports brand came together to give us a streetwear show of epic proportions!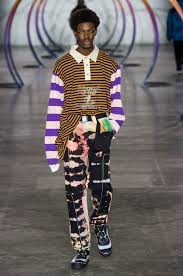 As the models  came briskly down the runway, it was obvious that this collection would not be devoid of colour, from the bold stripes, to the colour blocked shirts, mismatched camouflage and vibrant windbreakers. Many of pieces features the Liam Hodges x Ellesse logo, and this collection certainly wouldn't be out of place in the 90s, as the cuts  and fit are reminiscent streetwear scene.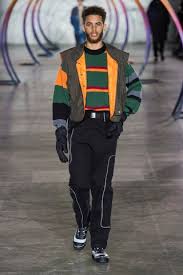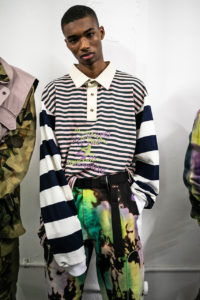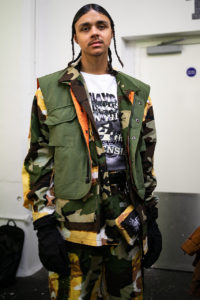 Through this collection Liam Hodges and Ellesse manage to merge the past with the future, combining garments such as shell suits and rugby shirts, with body vests and the boot-like trainer from Ellesse. The white and slate grey high-top is simple yet effective in bringing the outfits together. Its winterized sole makes it perfect for the season, and the midsole features understated branding all the way round.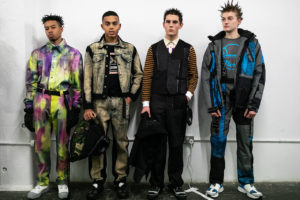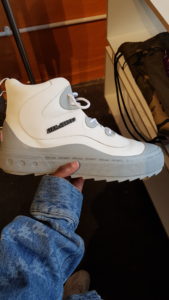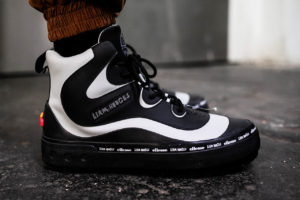 The pieces have a distinct, futurist nature about them, which is apt given that the collection is titled 'Mutations in the 4th dimension'. From the styling and makeup to the PVC tracksuits, the 'moonboots' and ofcourse the tie dye clothing. Liam Hodges and Ellesse, have aptly put their own spin on what would be everyday pieces, such as the dyed denim pieces and pairing their tracksuits with a pinstriped neck gaiter as part of Ellesse's ski line. It feels as though Hodges is right on the pulse, with streetwear becoming increasingly daring, he explores this throughout the collection to propel the brand beyond AW19.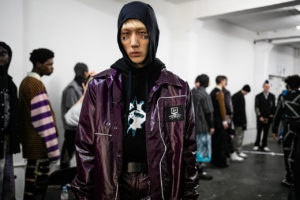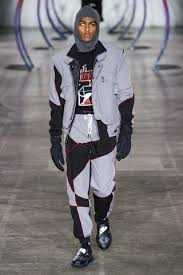 With  footwear brands dominating the runway this season, it's no surprise that Ellesse has got in on the action and they have absolutely done it with the right designer as the pieces are just as complimentary, who better to choose than a NEWGEN recipient. By doing this Ellesse are ensuring that they they are staying ahead of the competition by collaborating on a collection from another dimension!