As you know it is not often we get to sit down our favourite U.S designers, but when we do we grab it with both hands! Yesterday we got to meet the queen of denim, Sheila Rashid, a designer we have admired on social media for some time now ever since we saw a preview of her work from Tomboyish.
After seeing that she was in the U.K for the first time, we jumped at the opportunity to get an interview, as well as giving her a tour of London's very own fabric heaven – Shepherds Bush- to shop denim of course!  Not only will this interview give you an insight into who she is and her work, but it also showcases our favorite UK denim designer Val Galbo, and get her opinion on UK fashion.
We were lucky enough to interview Sheila with input from her girlfriend Lauren – who was able to give us a real insight into how Sheila works and an added perspective on UK fashion. The full interview is shown below:
Certified UK: Tell us a bit about you, how did this all begin?
Sheila: I'm from Chicago Illinois, I started making clothes in high school by painting on T-shirts for people. I would paint different characters of things I was inspired by such as Bape, Ice-Cream, Billionaire boys club etc… Then I moved on to painting on hoodies which were simple drawings.  After a while I decided I wanted to make things from scratch, so I bought a sewing machine and taught myself how to sew. I then went to college to study fashion design but I lost interest in it so I dropped out after learning the basics.
Certified UK: Wow so you taught yourself from scratch? Did you do that because it was a hobby, or did you decide you wanted to make money from it at that time?
Sheila: When I made the decision to go to college for fashion design, that was it for me, there was no plan B, I didn't want to do anything else so I had to teach myself because this was going to be my income.
Certified UK:  Did you feel like once you learnt and you started making clothes it was an instant success?
Sheila: I am still trying to master making clothes though it has been 10 years, I am always learning new techniques so I would say it's not instant but of course now it is pretty popular.
Certified UK: So from our perspective we know you more for making denim clothing, was that always your main area? How did you come about choosing that material to work with the most?
Sheila: It wasn't always my main material, my first collection had no denim in it. It was all geometric inspired dresses.
Lauren: Yes it was like exaggerated shoulder, vintage type dresses!
Sheila: Yeah, but then when I did my first pair of drop crotch overalls that's when I knew I was going to be doing denim a lot. I started experimenting by making denim with different details, geometric inspired designs was something I knew I would always stick with so I had to bring that into my denim. I like my colour pallet and shape to be simple, but my stitching incorporates intricate designs, such as the diamond cut.  My overalls got so popular and then I knew this style was for me. Of course I'm still going to do dresses and tops, I want to go back to what I started doing.
Certified UK: What would you say your signature is?
Sheila: Probably the drop crotch and my seam detailing.
Lauren: Yes! The drop crotch is specific to you!
Certified: Haha! Even if you hadn't said that it's what we had it down as!
Certified UK: So who do you mainly sell to? Is it more guys or girls or a mixture?
Sheila: I would say it's been a mixture, the age range is from like 16/17- 40! I've had friends from high school who wanted the drop crotch overall.
Certified UK: Wow, that's quite fashionable for that age group, I certainly wasn't dressing like that at that age!
Sheila: (Laughs) I don't know where they get the money from but yes they love it.
Lauren: Even my mum saw a pair I was wearing and she took them because they were different and she liked them.
Sheila: The uniqueness of my style makes people want it. The fit is different to what is in stores.
Certified UK: So you being here is obviously a massive deal! How would you describe London fashion from what you have seen so far?
Sheila: First of all I love London! Even when people dress so casually, there is a style to it. I love how the older people dress. I think the style here is very elegant.
Certified UK: There is a perception that US fashion is more centered around larger sized clothing, would you agree?
Lauren: Don't they do that here anyway? You guys wear all black oversized stuff, that style is definitely here too! It is all over social media so yes people copy it.
Sheila: U.S Fashion is definitely not as good as London I think…
Lauren:  Yes because it's more vulgar in the U.S! It's more exposure whereas when UK people show skin they still do it with elegance. I think in America they take away the elegance part and it's more like ayyyy! *Laughter* I think it's a cultural difference…In Chicago when they dress they are trying to make it work regardless of how inappropriate it might be.
Sheila: Yes it is definitely a more conservative perspective over here.
Certified UK: Who would you say your style icons were?
Sheila: Definitely Rihanna, Ugo Mozie, and Ty Hunter.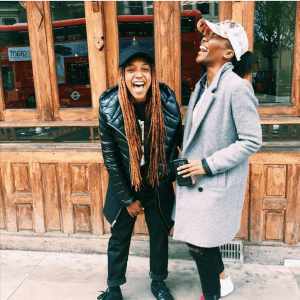 Certified UK: So since being here is there anything you've seen that you would want to take back with you?
Sheila: Definitely, there are some things I have seen in the stores that I would want to incorporate into my brand. Such as T-shirts with different prints and sublimation on them. I like how they print on shirts here, I've seen this a lot in local stores, and it would be cool to play on. Those are definitely tops I would wear. I design things that I would wear, not so much the people I would like to sell to.
Certified UK: So when designing you are looking more at yourself than your potential customers?
Sheila: Definitely, that is why my designs are androgynous. Even when I make tops for women it will have an androgynous edge whereby guys can appeal to it as well because that is me.
Certified UK: So do you think even when you started making dresses they were androgynous too? 
Sheila: I think the dresses were very bold, they were made to have a female empowerment feeling. I think the dresses were kind of intimidating because the fabrics I chose were sort of gaudy but also subtle so it wasn't too much…it was definitely a confident style! Even if you weren't the type, when you wore you would certainly feel more confident because you stood out.
Certified UK: So London has influenced the kind of tops you will make?
Sheila: Yeah definitely, I want to make more tops now because I know the kind of bottoms I am making already.
Certified UK: You should do denim tops! That would be amazing …oversized denim T-shirts! (You heard it here first, we want first dibs if this happens)
Sheila: I like that!
Certified UK: Are there any UK designers/brands that you have seen in London or on social media that you like?
Sheila: You know what, I have, but I've forgotten all of their names but definitely I like local designers that are under the radar. I follow more local designers than I do established brands. I like to see trends for sure they inspire me to do new things.
Certified UK: So for us here the drop crotch wave still hasn't been picked up by everyone it's usually worn by creatives or dancers and doesn't feature as most peoples everyday denim style. We are more into skinny, ripped, distressed, and more recently biker jeans. These are our staple styles, so whilst we don't have a UK version of you we do have some amazing denim designers.
So we are going to show you our favourite UK denim designer Val Kristopher Galbo, his style is definitely distressed jeans and he works a lot with paint on denim and makes various denim pieces of clothing from jeans to kimonos.  Be honest and let us know what you think? *Scrolls through pictures*
Sheila: So question, is he making these jeans from scratch?
Certified UK: Yes, so he is a fashion student, and sells his handmade jeans every month. At the moment he is working on a new collection which will be out soon.  Mainly jeans are handmade and the jackets are customized.
Sheila: Nice! I like the jacket *points at denim jacket* It's cool with the paint on as well.
Lauren: Yes this is dope, it's very grungy!
Sheila: If he makes the jackets from scratch that would be amazing! But the design on it is really good.
Certified UK: Yes, some jackets are designed but not handmade.
Lauren: Why do you say it is so great if he makes the jacket? Is it really hard to make it?
Sheila: Yes, it is quite hard to make the jacket but actually it's more so about the dye and getting the denim colour right. The acid wash is the hard part. All denim comes as a dark blue colour and then you have to do several washes to get it to the desired colour. Washing all those yards that is a lot of work.  So it would be amazing if he went through that whole process. I love it I think it is great – I don't know if some of the styles are generally my style though- Like the wide legged jeans…
Lauren: I think his style is not super universal, it is specific to a type of person. There is type of woman that would wear those, and a type of man that would wear them- but I would wear them! You can tell his style is caters to the Yeezy kind of culture.
Sheila: Yeah some of his work definitely shows a tighter tapered fit and I like those!
Lauren: Those kimonos are sick!
Certified UK: Yeah we wouldn't see every single person wearing this type of outfit but that's what makes it unique!
Sheila: For sure, but yes I like it- he's good!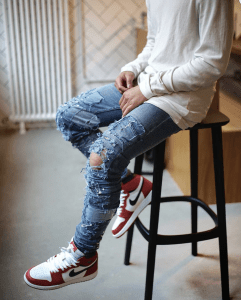 Certified UK: What other type of influences would you take away from this trip- non-fashion related, perhaps culturally?
Sheila: A bunch of things, like the cleanliness…
Certified UK:*Shocked face*
Lauren: Ooo yeah you've got to come to Chicago and you will see some things you never thought you would!
Sheila: The properness of British people is something else I like. It makes you conscious of how you talk and manners.
Lauren: In America you will know the difference between two types from the way they ask questions whereas here, two people from two different backgrounds can still speak in the same way and are both polite.
Sheila: Yeah I feel bad for dropping stuff on the floor here!
Certified UK: Do you think you have any UK style icons?
Sheila: Hmm who is from the UK…*pause* I like Adele…if it was UK music I could name a ton of people. I respect that Europe still has huge fashion houses that have been around for many years, in the U.S we don't have that as much. Having them is so different than just having factories.
Lauren: Yeah your brands are long lasting because they have a history, but America has a new generation of designers. There is always something different, and anything can work in America.
Certified UK: This is true anything goes more in America than it does here in conservative UK…So how do people buy your stuff?
Sheila: Definitely word of mouth, social media, even in the streets when people see me and they like my jeans then I link up with them, take their measurements, and we go from there. I do get a lot of traffic from twitter and Instagram. Then I have my website, but on there I only have orders for hats and T-shirts. I haven't put my overalls and denim up officially on the website yet but I will do in the summer.
Certified UK: Are you quite a proactive designer when someone approaches you to make a pair of jeans?
Lauren: *Rolls eyes* She's so irritating! Once she starts she can't be distracted by anyone, even when I try. She goes in the zone and doesn't stop until it's done.
Sheila: Yes I'm always sewing, that is my life. Yes I have a part time job but other than that I am sewing!
Certified UK: What would be the highlight of your career? A way of you saying you have been successful?
Sheila: It would definitely be showcasing at Mercedes Benz fashion week. It's expensive but I know it would be awesome for me. Also…another highlight would be getting my jeans or overalls on Rihanna
Lauren: I think Rihanna would love it!
Certified UK: Yes she could actually rock it – with her creepers!
Certified UK: Definitely! Thank you so much for your time so far- Lets head over to Fabric stores!
FABRIC STORE TOUR:
So we visit a number of fabric shops near Shepherds Bush market. Watching Sheila is like a kid in a candy store especially in the denim section. We also notice that she is inspired by other materials and patterns such as jersey, checks, and pinstripes.  From, the first shop we enter Sheila is sold over a light blue denim…  On the tour we discuss sourcing, pricing, inspiration, and the future.
Certified UK: So do you think people are happy to pay a premium for tailor made jeans?
Lauren: The thing is, you have to think about the labour involved in making this. Sourcing the denim and everything. That is what you are paying for. It's not cheap to have that level of quality- and for a pair of jeans at about $150 that is still a good price and customers are happy to pay it.
Certified UK: So speaking of sourcing, do you have to search beyond the U.S to get quality denim?
Sheila: Well I get my denim from L.A. So it's not too far which helps both quality control and fast delivery, though yes it might be more expensive than Asia, I don't mind.
Certified UK: Looking at some of these other fabrics, will you ever replicate your drop crotch style into other fabrics. For example, this pinstripe material, obviously for suits and smart trousers, could we see that made into drop crotch smart wear?
Sheila: Wow, that there is a whole other collection- definitely. I like the sound of playing around with smart wear and still incorporating my signature. I have collections that will be out in the future which will be centered on particular fabrics, those will be great to work on creatively.
Lauren: Yeah Jersey is one of my favourite materials, I feel like you should do something with that!
Sheila: Maybe but it won't be joggers that's too predictable.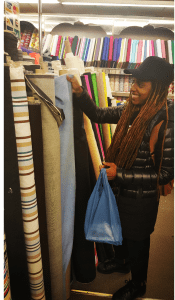 Thank you so much to Sheila Rashid and Lauren for such an in-depth interview and the opportunity to showcase UK talent. We'd also like to thank Ari Fitz and Tomboyish for putting us on to her, and Val Galbo for providing us with a robust body of work to review.
You can purchase Sheila Rashid's clothing via www.sheilarashid.com and make enquiries for jeans and overalls via social media
Instagram: @sheilathedesigner
Twitter: @imakeclothes
Val Kristopher Galbo is currently making a new collection for sale and can be contacted via Instagram at:
Instagram: @valallday
Wesbite: www.valkristopher.com
Email: Valkristopher@gmail.com