In October 2016 you will remember our first post on our new-found brand, Sons of the First Tribe. Since then our love of the brand has increased, and we got our hands on the Policia Estado piece, so last year we got to sit down with the co-founder, Michael to uncover the man behind the mask. As we went into 2017, we wanted you guys to understand the thought process of the brand- and also get used to seeing the name!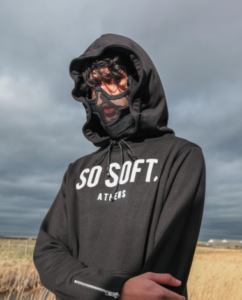 How did SOFT come about?
Michael: I used to use a software app to share ideas between myself and my business partners, from there the idea of a brand began to grow, after being inspired by the likes of Bape and Supreme- we wanted something with a culture following. We started off by thinking about it as sons of the last tribe, which then changed to Sons of the First Tribe.
But what is SOFT about?
Michael:  While it might seem like a clothing line it's actually a culture of clothes and art.  I was reading a book by Neville Goddard who is new thought author and I knew that I wanted SOFT to be a new thought brand which is all about self-fulfilment and positivity. The brand is all about how the outside mirrors your inside, and I want people to feel like they are part of a culture (kind of like Supreme).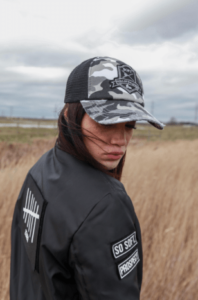 Because of that is there any symbolism in your pieces?
Michael: Yes in one of our bombers we have Matthew 13:12 in Hebrew, our use of the SOFT locations is also symbolic but I will explain that later, and also the two most important words to us are- I AM because we are all about self-fulfilment and letting the brand express who you are. Because it is all about the individual we like things to be very original. Even in our art, it is all drawn by tattoo artists from scratch. We have an archive of unreleased artwork we are currently working on.
What was the idea behind SOFT's style?
Michael: If you notice all of SOFT clothing is black, this is because I wanted it to have one style, it's a collective, you could say a uniform. The logo as you can see is a spear and the wifi logo, this is a combination of the past and future, it is an exploration of the old and new.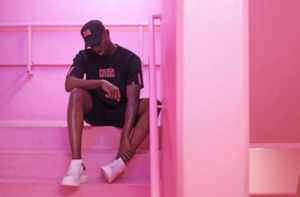 Talk to us about the characters you sometimes introduce in the brand.
Michael: So you have the 7 characters of the brand, The represent 7 tribe members which are; the guardian, the scholar, the healer, the builder, the creator, the seer and the server. I myself identify as the Server character. These 7 guardians will be a gradual release, so I will introduce each character slowly.
How did you even get into fashion?
Michael: To be honest, I learnt by observation and by trial and error. I didn't even know what a pattern was before! But each time it gets better and I have learnt so much from each piece and the people around me. I make everything from scratch (so no Gildan!).
What has been your favourite piece?
Michael: When we came out with the 'So Soft' hats that was major. We didn't expect it to go as far as it did because at the time, the expression to be 'soft' was kind of seen as not masculine but then guys actually took to it- and girls! Celebrities like Chris Brown and Lira Galore have worn it, which is obviously a big deal. It was a bold piece and till this day people actually think the brand is called SO SOFT.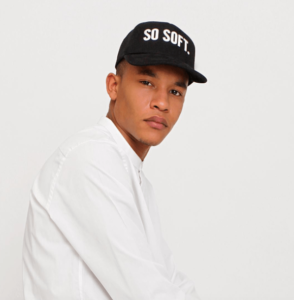 What were the SOFT locations about, because they seemed quite random?
Michael: SOFT Athens, Cartegna, Nairobi, and Tokyo represent the four corners of the earth- which in due time is where we will be. Cartegna also had main ports that were used in the slave trade which is highly symbolic to us, when looking at the past.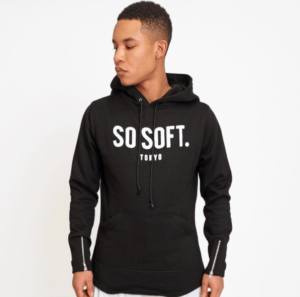 Given that all your pieces are black, which is a great canvas to start with, would you ever collaborate with any other brands?
Michael: I would have to know a brands story to collaborate with them. I don't want to water the brand down just yet. For me, execution is everything so I have to perfect my brand first.
What pieces are you excited about?
Michael: Definitely the infinity pocket bomber jacket *shows us jacket*. With this jacket you literally do not need to carry anything. It's got you, we've got you, and its slick.
We couldn't agree more!
Future for SOFT?
Michael: We want to continue selling online of-course but we would also like to do more popups like the one we had at One by One store and also do some art and fashion shows. We are focused on building our following and remaining consistent in providing high end street wear.
Special thanks to Michael for this interview. Look out for SOFT in our upcoming events for 2017!
Check out their Website in full here