Recently, we we have been flooded with doodle designs from the likes of Vetements, Val Kristopher and others. However, one brand that have gripped our attention like no other is Marr Ldn. The brand have finessed the method of carefree doodle- like graphics and turned it into an art. The pieces scream nonchalant art hipster/rockstar and its dope!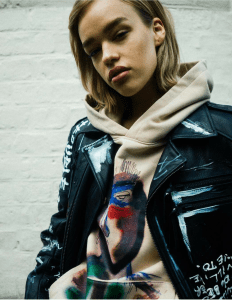 This is looking good without looking like you care. But we care, we care about the mustard long lined coat adorned with countless scribbles, team that with a black turtle neck, black cigarette trousers, Marr's own Air Force one customs, and you've got a very lit fit! Marr's fusion of art has been seen long before this collection from their Mickey Womack collection and the watercoloured print.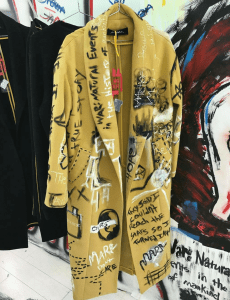 Unfortunately we missed Marr's recent pop up at One by One store but we won't be making that mistake again. This brand definitely brings out the rockstar in us and we'd be lying if we didn't say we have our eye on a number of pieces. For us Marr is more than runway worthy and we won't be surprised if we see a celeb sporting a Marr custom at next year's Met Gala…theme permitting.