Its taken me a while to write this article purely because I needed the space to really assess what was seen at Virgil Abloh's final show for Louis Vuitton Mens. Having attended all shows there's a lot to take in that highlight his progression and inspiration, as well as references that nod to his all encompassing genius.
Due to the popularity of the show and in order to abide by COVID guidelines Louis Vuitton decided to put on two shows within the same day for separate audiences. I attended both shows, in order to capture any differences between them and in all honesty to give myself an extra opportunity to soak in Virgil's greatness physically for the last time.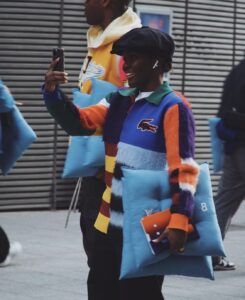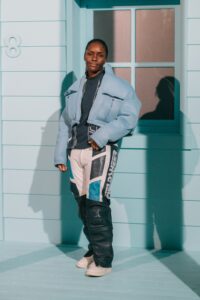 The tone was already set from the moment you walked in, taking in the baby blue set complete with a blue house and red roof, a Louis Vuitton embossed table set for an orchestra and a blue bedroom interior. The blue set is reminiscent of his fourth show, 'Heaven on Earth' except this time Virgil brings The Louis Vuitton Dream House to life, complete with moving parts to compliment the fluid movement we've see throughout.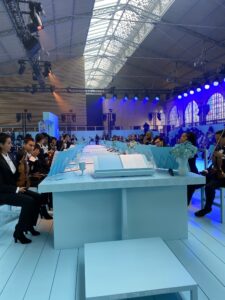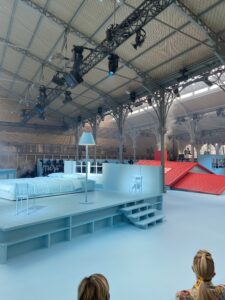 The show was the culmination of everything that Virgil loved; his celebration of nature, wonder, music, surrealism, the divine, and the innocence of childhood all played out on the runway. Opening with black formal wear paired with flower bouquet bags and embellished equestrian style hats, you can already see his imagination ramping up as we're then thrust into a myriad of design and detail. From the paint can bags; an obvious nod to his ability to 'paint a picture' and create something new, to the full tapestry pieces and of course the extravagant display of  garments deriving from and rooted in Hip-Hop culture there is much to be dissected.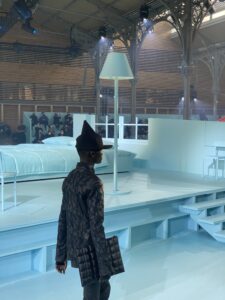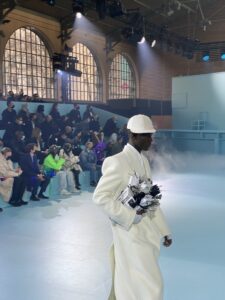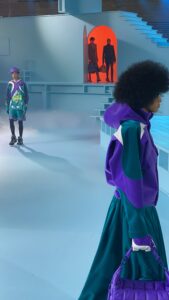 Every look that came out was a testament to Virgil as a maverick designer. Whilst well complimented on styling by Ibrahim Kamara and Music composed by Tyler the Creator and produced by Benji B, the overall result was a freeform expression of his brilliance. Whether it was elongated vintage olympic jackets, ivory embossed bombers, or even pointed eared baseball hats, the show was bursting with outlandish imagination yet was somehow presented in a comprehensible format.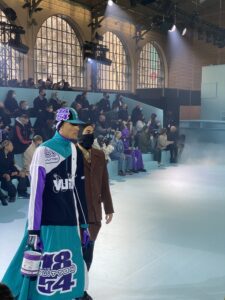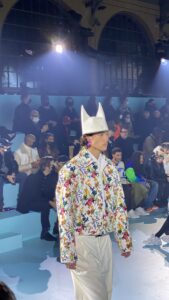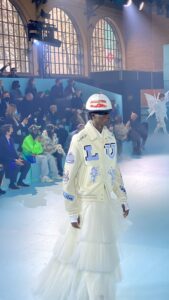 The angelic veiled baseball caps and the kite winged laced pieces were a solemn reminder of Virgil's seemingly supernatural qualities and his transition to a glorious afterlife. As he unlocked various crevices in his vast mind to bring us this collection, he plants ideas in our minds, deconstructs notions of what we perceive heritage luxury to be all while enjoying the art of creation itself. With so much on display that offers variation in style, material, theme, culture, genre, the show was both ephemeral and ethereal. Whilst this might have been his swan song, I can only hope that his ethos remains at the bedrock of fashion. That is to do everything from a place of curiosity, to enjoy the journey as much as the output and to do all things with meaning.