A couple of weeks ago, we saw the release of Dxpechef x J Stash RELAX D. Tour collection. The collection's grunge metal vibes left us thinking about street wear trends and the role of punk & metal this year.
The collection features a range of distressed T-shirts and Hoodies emblazoned with skulls, fire, and chains. This plays on the commercialization of punk rock and metal, with the likes of AC/DC and Thrasher magazine t-shirts becoming very popular in mainstream streetwear. The grunge look is of course complimentary with leather jackets, bandanas, and leather trousers which Dxpechef have aptly shown in their styling.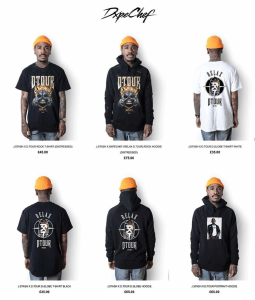 Dxpechef have always bordered on grunge. Since their changeover from Dopechef to Dxpechef, we have seen darker, punk –esque pieces.  The resurgence of the creeper by Puma and Rihanna, a shoe which originates from the 40s and popularized by rock and roll band the Teddy Boys, re-enforces the comeback the British grunge era.
We expect the clothes that Dxpechef have produced to be teamed with drainpipes, Doc Martens, beanies, or bandanas and of course some leather too. The collection is certainly geared towards heavy metal appreciators. We especially like J-Stash's portrait print t-shirt; for us that is what we call NEW METAL, as the rock and roll vibes is in the picture itself not the prints or logo. We would LOVE to get our hands on the embroidered leather jackets also, and if the lime green jacket ever comes into production! We will be first in line!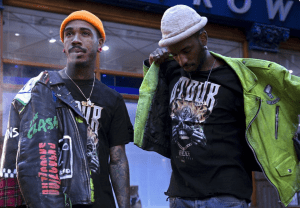 Dxpechef seems to be setting itself apart as a UK grudge streetwear brand, and we are here for the Anarchy! Make sure you take advantage of the 50-80% sale currently on the Dxpechef X AQAQ and Zion collection!